Between 1967 and 1974 a military group in Greece seized power from the government by force. Invading with tanks in the centre of Athens, they imposed terror, restriction of freedom, violation of human rights and censorship of any dangerous political implications against the coup d' etat. Theatre was the space for actors/directors to encourage resistance against the junta through its metaphorical language. Very often censorship committees were not able to detect hidden connotations against the regime in drama plays, especially when the latter were translated. Because their content was not obviously related to the Greek society, directors and actors started realizing the social and political role of theatre. Thus, thirteen Spanish plays were performed during the so called "stone" years, the majority of those belonging to F.G. Lorca.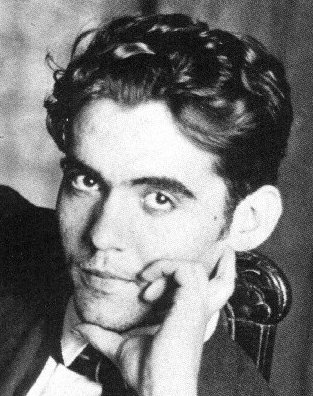 Federico García Lorca
Although Lorca was morally forbidden by the regime due to his homosexuality, censorship was mainly focused on Greek play writers because the former thought they could understand and censor morally and politically dangerous parts. Therefore, Greek directors could easily choose amongst foreign play writers and criticize the junta through a fictional space of another country. Lorca's brutal assassination by Franco's regime became the most suitable symbol for Greek directors to express resistance. During 1969-1972 eight performances were based on Lorca's plays.
Plays
The first play staged was F. Lorca's "The house of Bernarda Alba" at the National theatre of Northern Greece in 1969. Contemporary critics focused on the despotic mother figure of Bernarda and the lack of freedom her daughters suffered. Thus, the Greek audience could easily read between the lines and eventually relate Bernarda to the autocratic regime and their place to the poor daughters' one. In specific, a Greek critic, Nikolas Bakolas, points out: "Bernarda and her daugters have been in a tomb; they have all committed suicide long before poor Adela hanged herself" (Drasis, 23.06.1969). The play was staged several times, which most likely reveals a hidden political statement. Below a few scenes (from).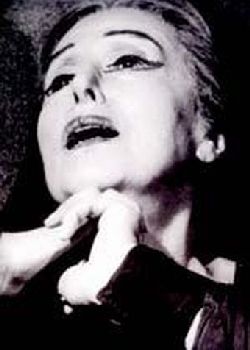 Katina Paxinou
in "Blood Wedding" (1970)
A year later (1970) Lorca's "Blood Wedding" (Bodas de sangre) was staged by the so called sacred theatrical couple, Katina Paxinou and Alexis Minotis. Minotis' statements a day before the premiere are quite typical: "Lorca is a man of our own era. Through his poetry and his plays he expressed the essence and the tumult of the Spanish soul very sincerely with outstanding artistic quality. Lorca clearly detected the contemporary lack of freedom and the new tyranny imposed by the consuming and industrialized society" (Vima, 3.10.1970).
More of Lorca's plays were performed between 1970 and 1972, when Greek actress Anna Synodinou staged his historical drama "Mariana Pineda". In this case the actress herself bore a political implication. She was barred from acting for three years by the coup d' etat due to her communist ideas and her theatre in Lycabettus was shut down. Although the play had been called "a novice's weak play" by Lorca himself, it was artistically reappraised in 1937, when the heroine's tragic life was related to her writer's. Suddenly the play acquired political meaning, which was enhanced by two facts. First, the play was written in 1924, when dictator Miguel Primo de Rivera was the ruler of Spain. Secondly, Mariana Pineda was a historical heroine but most of all a patriot, a martyr for liberty- played by Anna Synodinou. The fact she was willing to die for Spain - and not for Greece - gave no reason to the censorship committee for interfering.
| | |
| --- | --- |
| Mariana Pineda | Anna Synodinou |
Simultaneously, Greek directors stage plays of the Spanish Theatre of the Absurd- particularly Fernando Arrabal's, due to his fighting spirit. Arrabal's plays were forbidden in Spain since late 1960's and the play writer himself was exiled from his country because his plays were considered threatening for Spanish ethics and the authoritarian regime. His first play staged, "Car Cemetery", was the most articulate of the period picturing Franco's oppressive regime and the subsequent falling apart of Spanish society.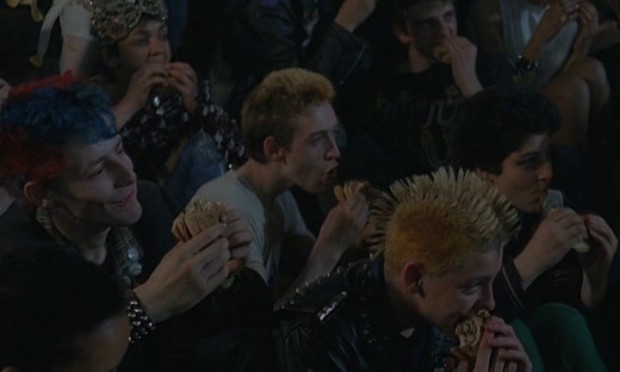 From the film version of Arrabal, Car Cemetery - The Messiah gives food (from)
In conclusion, Spanish theatre plays were used especially during 1969-1973 to protest against oppression and express criticism against Greek junta's ethical and political messages. Messages were comprehended by the audience but were not explicitly written by contemporary critics- for obvious reasons. The criteria for choosing certain plays were their tragic, poetic and non realistic character. Twelve plays were staged during those four years- most of them were Lorca's. It is worth mentioning four out of twelve plays- the…mildest ones- were staged by the National theatres in Greece and the rest by six Private Greek Theaters.
It was theatre world's reaction, though indirect, against the military coup d' etat.
--
(based on Virginia López Recio's homonym paper).
See also Lorca's influence on the Greek poet Odysseas Elytis