One of the chain course themes is how 'cultural heritage' and history are reflected in (forms of) art: poetry, fine arts, built environment, monuments etcetera. This theme is being elaborated in Cyprus, in cooperation with a Cypriot printing artist and a Cypriot poet. We will visit relevant places and pay attention to how these places come back in various forms of artistic expression.
The course participants will also be invited to practice these forms of art: printing, drama and poetry/literature. Within this context, general themes are:
Symbols used by the various communities in Cyprus
The various groups contributing to the Cypriot heritage: Greeks, Jews, Venetians, Crusaders, Ottomans, British
The religious heritage
The musical tradition
Myth and reality
Cultural heritage education and reconciliation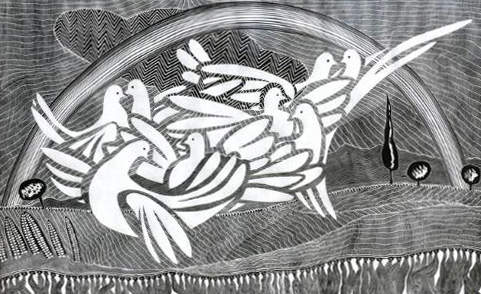 Hambis Tsangaris,
Last page of 'Spanos and the forty dragons' (see article)
The title 'The forty dragons' reflects this theme, based on a series of prints by the Cypriot artist Hambis in which he expresses his homeland being invaded by an endless series of oppressors.